Forever Blinds Blog
Forever Blinds Blog
In the Spotlight: Venetian Blinds 0
For an exotic and elegant look to the interior, a perfect option is to put Venetian Blinds in the spotlight of the room. The streamline design makes them appropriate for resorts, bedrooms, lounge and office spaces to make you feel relaxed and at the same time feeling connected to nature. 
Timber Venetian blinds have stood the test of the time and are preferred for their functionality and style. With the shifting trend and choice many people prefer wooden blinds as its less plastic and great for environment.
Spotlight Venetian Blinds in your windows to protect from harsh UV rays and at the same time get full control over privacy by adjusting horizontal slats with the cord. You can also get these motorised and have full control with a touch of a button.

SHOP BESTSELLING VENETIAN BLINDS 
Did you know, you can even custom print your design on timber venetian blinds at Forever Blinds. With hundreds of pre-selected designs or upload your own design, you'll have a bespoke feature in your home or office. Have a look at our Custom Printed Timber Venetian Blinds here.
Let us know your opinion. Leave a comment below!
In the Spotlight: Roller Blinds 0
Roller Blinds are the most practical and cost-effectivewindow treatment you can buy. There are many practical benefits of choosingRoller blinds such as they are excellent in temperature control, helps keep theroom warmer in winters and cooler in summer. Having install blockout Rollerblinds give you complete privacy and protection from the UV rays andpromising longer and quality sleep.
Window coverings makes a massive difference in transforming your house depending on what kind of blinds you choose. Most of the people loves to make Roller Blinds spotlight of the house by choosing from the wide variety of colours, fabric types and texture available as there is no better way to show better taste to your friends and family.
Usually Sunscreen Roller blinds are installed in the living room, as it provides privacy during the day yet the perfect amount of sunlight to brighten the room. Blockout Roller blinds are mostly preferred in the Bedroom your complete privacy during the day and night or alternatively you can also choose Light filtering Roller blinds spotlight if you like to wake up with the sun.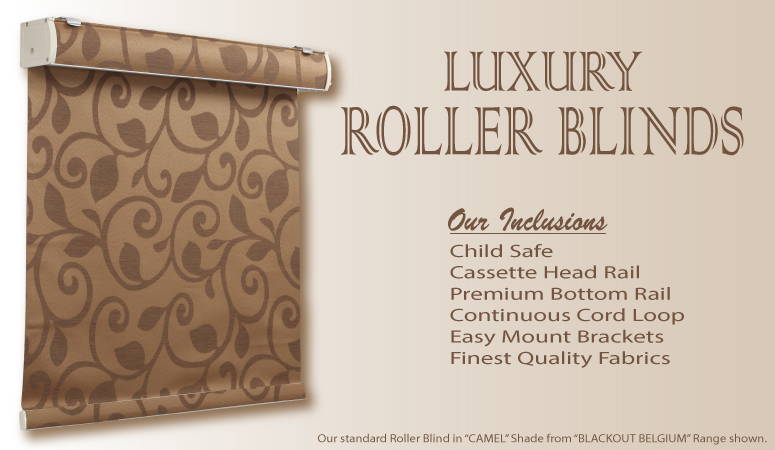 SHOP BESTSELLING ROLLER BLINDS